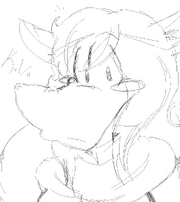 Alice (also known as "Alya") is a fanmade character created by MadameRio for a story they are devolping in the near future.  But she was also included in HoraceLand.  She is the main antagonist's, Reocha's, twin sister.  She is an antropomorphic horse along with most of the other characters in HoraceLand.  She is most known to be an airhead.
Personality
still devoloping more about her personality and a few other things
Appearance
Alice is an anthropomorphic horse, with long curly black hair, and usually wears a lot of white.  Her main costume, is a slim white suit, a black scarf, black belt, and black and white armwarmers.  When she wears casual clothing, she wears a long white turtle neck, black shorts and hiker shoes.
Trivia
In devolpment, she was originally named "Ora", wore mostly black, and had a rude personality.  But was changed to her name being Alya (Alice), wears white, and has a quiet, and bubbley personality.
Her personality is mostly based on Luigi from Super Mario, along with Cat Valentine from Victorious.
A fun fact is that she cannot stand makeup and will refuse to ever put any type of make up on.